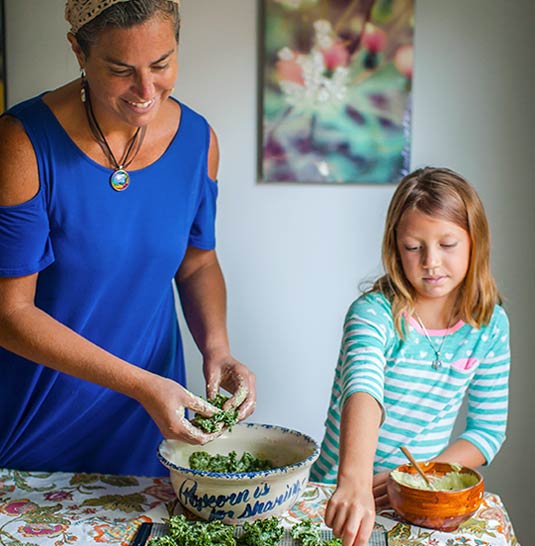 An Ideal Picture
It is an ideal picture here making Kale chips in a pretty dress with my daughter of 8. Sweet love being together creating nourishing delights. Picking our kale from our organic front yard garden, massaging in a creamy nut and seed cheeze and layering it ever so gently on dehydrator trays. Together with glee we put them in the dehydrator and turn the dial to 115 degrees. We let them dry for 8 to 12 hours and enjoy them warm with fresh filtered water under our lemon tree in bloom.
Well, this can happen and has happened when all the life forces are with us. In this case, the photo was taken by Edible Magazine for an article titled A Thirst for Dehydrating. The benefits of dehydrating are pretty cool. They keep your garden greens alive and they hold an awesome crisp. It is not particularly hard to do. The dehydrator is about as complex as a hair dryer. The clean-up is the "hardest" part. Overcoming a former mind set of trying new things can be a deterrent and don't let it. I promise, it is easy and can be ideal.
And, when it is not ideal, like when your daughter insists on Chick-Fil-A fries over your fresh collard chips, well what are we going to do. "I don't want to be different" and eat your crazy kale chips Mom, have been spoken over and over again. Then, calmness moves in again and she hears her friends praises for the chips, she remembers she actually like them and she digs in again.
We try don't we, as parents, we try so hard to keep our children safe from GMO, chemical laden foods. It can be easier when they are infants and we can gratefully breast feed. Then, the teeth come in and the world of food opens up. I definitely sheltered my wee one from the conventional as long as I could and she does live in this world and so many of the things I loved as a child, she eventually has found to love too ( I am talking about potato chips here ? ). We try to feed them fresh nourishing locally grown foods and it is not always easy. My go to are making chips…cabbage chips, collard chips, flax chips, pear chips, and of course kale chips.
It worth it though, to keep trying and to encourage striving for the ideal. So, I do it, I conjure up the confidences to try a new pattern. So, when the next potluck calls or pool party is being thrown. I gather up my curly green kale (usually bought and sometimes grown), strip the stem away and mix in a wonderful concoction of maple, coconut oil, aminos, sea salt and nutritional yeast. I usually get this part done late at night and let them dry overnight. Morning time comes and the house smells amazing and our party potluck dish is ready. So, give it a try if you might! It may be ideal for your family and it may not, strive for what speaks to your heart the most.
Here is party pleasure recipe for sure!
Organic Raw Vegan Chocolate Kale Chips Organic Raw Chocolate Kale Chips
Pumpkin Seeds ~ 1 cup soaked (2/3 cup dry)
Sunflower Seeds ~ 2/3 cups soaked (1/2 dry)
Cacao Butter (melted) ~ 1 ounce
Agave or Maple Syrup ~ 3 ounces
Coconut Oil (melted) ~ 1/3 cup
Cacao powder ~ ½ cup
Pink Sea Salt ~ 1 tsp
Green Curly Kale~ 15 ounces (about 2 ½ bunches) ~ stripped
Process: Soak seeds for 8-10 hours (if possible). Melt the Cacao butter and Coconut oil in dehydrator or double boiler (keep under 115 degrees) Blend all the ingredients except the kale in a highspeed processor. Massage chocolate mixture onto the stripped kale. Lay on dehydrator trays and dehydrate 10-12 hours.
*All seeds could be substituted for any raw organic nut or other seed. Agave could be substituted for any raw organic liquid sweetener, and extra coconut oil can be substituted for the cacao butter